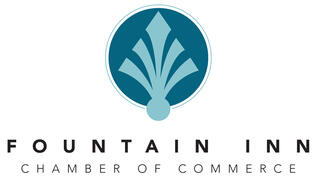 stay calm & support the '44
The Fountain Inn Chamber of Commerce wants to ensure that you, your business, your family, and our community are prepared and up-to-date on information. You'll find a list of local resources, updated information from Fountain Inn businesses, and activities to make social distancing a little bit more interesting!

If your business would like to be included, please email [email protected] so that we can include you!
school information
---
Update on March 31st
Beginning today, a new USDA waiver enables us to allow adults to pick up meals for a child even if the child is not present, as long as the adult can demonstrate proof of the child's identity. This has been an issue for families where a child is sick or immune-compromised, or not all the children can fit in one vehicle, for example.

GCS personnel will review documentation to the best of their ability while maintaining appropriate distance and without physical handling.

Accepted forms of identification include, but are not limited to:

school identification card
school report card
child's passport
birth certificate
government-issued child identification card
any document proving parent/guardian identity and relationship to the child, such as an adoption decree; doctor, clinic, or hospital record; religious record; or daycare center record

Visit the district website to find meal and WiFi sites near you
Spike's After School
Now opening at 6:30 each day
864-862-5050
---
24 Additional Meal Delivery Sites Beginning Monday

Link for all meal sites

On Monday, March 23rd, 24 additional sites will begin serving free meals to children 18 and younger (and special needs adults up through the age of 21). Buses will be at each site between 10 AM and noon Monday through Friday to deliver meals. Parents and students will have access to free Wi-Fi via the bus hot spot during these hours. The additional locations will bring the total number of sites serving breakfast and lunch in Greenville County to 81, with 15 school sites and 66 other locations district-wide.

Parkside at Verdae, 740 Woodruff Road
Hyde Park, 10 Moore Street, 29662
Mauldin Heights, 901 North Main Street, 29662
Gateway Village, 501 Boyd Avenue, 29681
Pelham Village, Toscano Court
Poplar Place Apartments, 707 Poplar Drive, 29651
Azalea Place, 663 Rutherford Road, 20609
Magnolia Place, 669 Rutherford Road, 29609
Beverly Apartments, 200 South Beverly Lane, 29650
Drummond Village, 801 South Main Street, 29650
Lions Gate, 288 Old Mill Road, 29662
Mauldin Gardens, 330 Miller Road, 29662
Avalon Apartments, 490 Wenwood Road, 29607
Berkley Pointe, 500 Wenwood Road, 20607
Woodlea Oaks, 4307 Edwards Road, 29687
Woodstream Farm, 200 Mitchell Road, 29615
Oakland Place, 212 Oakland Avenue, 29650
Fountain Hills, 201 Chapman Road, 29644
Bridle Ridge Apartments, 310 Chandler Road, 29651
Spring Grove Apartments, 1900 Boling Road Extension, 29687
Rocky Creek Apartments, 1901 Woodruff Road, 29607
Jamestown Pointe, 155 Ridge Road, 29607
Evergreen Place, Nichol Street/Roosevelt Avenue
Brookside Pointe, 1600 Brookside Pointe Circle, 29690
---
Update from Fountain Inn Elementary on March 24:

eLearning update!
We will be distributing additional learning material for an additional 10 days of learning. For those of you without internet service at home, please remember that all district schools have WIFI within the building all day between 7am and 7pm. There is no need to go to a specific school, just go to the GCS building that is most convenient to you. Although internet access is needed to download or turn in electronic assignments, once they are downloaded, students can work on the material offline. All students grades three through five should participate in eLearning.

This Wednesday and Thursday, March 25 through 26, we will begin distributing two weeks' worth of additional lessons in case school closure extends beyond March 31. Families and Students, Pre-kindergarten through second grade, should plan to print lessons from your teachers websites. Those without the ability to print, will have an opportunity to pick up printed packets at your child's school. Electronic lessons will be pushed out for grades three through five. If you are in need of a packet from PreK through second grade, they will be distributed this Wednesday and Thursday from 7:45 am through 5:15pm in our main car line. Please place a sign in your window with which grade(s) you need. We will have someone bring the packets to your car. PLEASE DO NOT GET OUT OF YOUR CAR! We will be enforcing social distancing!

Our school is a site for free meals for children of families who are struggling to feed them during the day. Families in need of non-educational assistance, such as housing and transportation, are encouraged to call 211, which is a United Way number for crisis services.

Reach out to your child's teacher if you have any questions. Stay safe and stay healthy! We miss you!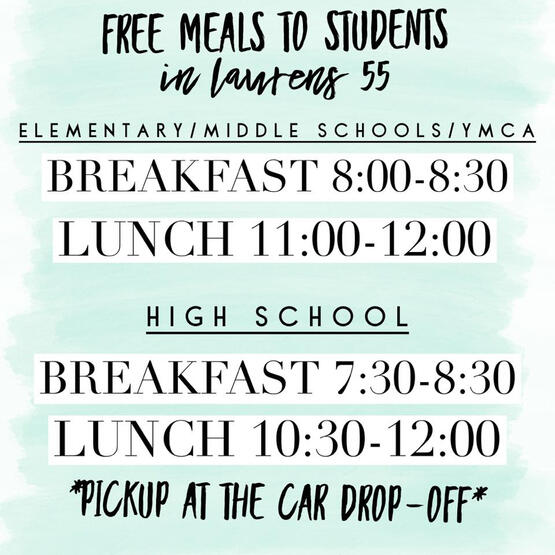 General Resources
HERE ARE SOME GREAT RESOURCES:
Thestate.com - SC Servers, others can get 6 weeks unemployment pay without applying for other jobs
Thestate.com - What to do in SC if you're laid off because of the Coronavirus
Prisma Health is offering a FREE virtual visit if you feel that you need to be tested for COVID-19. Please click the button below for more information.
From Mark Willis, House of Representatives:
March 22nd
Here is the latest from the South Carolina Telehealth Alliance. People are encouraged to access telehealth services if you experience symptoms rather than going to a healthcare clinic or hospital. They can assess you from your phone, tablet or computer. This is a free consult. Then you can be referred to a drive through testing site. We need to thank all of healthcare workers for the tremendous job they are performing for our citizens. They are on the frontlines fighting this dreaded virus.

The situation surrounding the COVID-19 crisis is rapidly changing, and the SC Telehealth Alliance is experiencing a high volume of inquiries and requests related to Telehealth services and COVID-19. To assist in responding to these requests, we have developed the following list of resources and links. Due to the rapidly changing circumstances, please refer to the links below for the most up-to-date information.

South Carolina COVID-19 Updates

For most up to date info on the status of COVID-19 in South Carolina, please visit the South Carolina Department of Health and Environmental Control website.

COVID-19 Online Screening

For patients with COVID-19 symptoms (respiratory infection, fever, cough, flu-like symptoms) or known exposure, please complete a Virtual Urgent Care visit to receive consultation and determine whether further testing is appropriate. In order to access the free consult, use the promo code COVID19.

MUSC Health Virtual Urgent Care
McLeod Telehealth
Prisma Health Virtual Visit
Roper St. Francis Healthcare Virtual Care
Also, Self Regional Healthcare is offering telephone screening. Call the COVID-19 Screening Line at (864) 725-4500.

COVID-19 Telehealth FAQs for SC Providers:

For any providers getting started with telehealth, the SCTA encourages you to reference the COVID-19 technical assistance document recently released by the National Telehealth Resource Center Consortium.

What policies or laws should I know about before providing Telehealth?

All SC practitioners should be familiar with South Carolina's SC Telemedicine Act (S1035)
Non-physician practitioners should be aware of additional guidelines or laws for their field. Please reach out to your respective licensing body for guidance.
What platform should I use if proving telehealth services to my patients in their homes?

There are multiple HIPAA compliant video platforms available. One easy-to-use, web-based video platform often used by SC Telehealth Alliance partners is doxy.me.
The Department of Health and Human Services (HHS) has issued a Notification of Enforcement Discretion for telehealth, which allows providers to use platforms such as Skype, Facebook Messenger, and Apple FaceTime for provision of telehealth services during this national emergency. Please review the notification as certain public-facing platforms are still excluded.
Will I be reimbursed for the services I provide via telehealth to my patients in their homes?

The telehealth reimbursement landscape is quickly changing as restrictions are being temporarily lifted in light of the COVID-19 crisis. To receive ongoing telehealth coverage and policy updates, we encourage everyone to visit the Center for Connected Healthcare Policy's website and sign up for their listserv.
Medicare: The Centers for Medicare and Medicaid Services (CMS) has broadened telehealth reimbursement for Medicare beneficiaries for the duration of the COVID 19 crisis. Please reference the Medicare Fact Sheet released 3/17/20 for more information, and monitor the CMS Newsroom for up-to-date changes.
Blue Cross Blue Shield: BCBSSC does cover some telehealth visits into the home upon completion of virtual care services application (see telemedicine (CAM 032) and telehealth (CAM 176) policies). Policies around telehealth are likely to be lightened due to COVID-19. To stay up-to-date please reference the BCBSSC website.
Medicaid: SC DHHS is working on a COVID-19 action plan and will post any changes to its policies publicly on its website.
The SC Department of Insurance has a dedicated page its website that focuses on insurance industry developments in South Carolina pertaining to COVID-19.
March 19th
2019 TAX RETURN EXTENSION INFORMATION

In response to the COVID-19 Coronavirus pandemic, Treasury Secretary Steven Mnuchin announced Tuesday that Americans will have until July 15th to pay their 2019 federal income taxes – and without penalties or interest. No special filing with the IRS is required for this payment extension. The announced payment extensions are limited, however. Individuals can defer payment of up to $1 million in taxes, and corporations can defer payment of up to $10 million, and without penalties or interest. Individuals and businesses with 2019 income tax liabilities in excess of these amounts are presumably subject to late-payment and potentially other penalties for tax balances that may exceed these amounts. No extension on making estimated tax payments was announced, and estimated tax payments are presumably due as before on the required payment dates.
The payment extension announced for the IRS is not a tax return filing date extension. Treasury Secretary Mnuchin encouraged all individuals to file their 2019 income tax returns by April 15th, and especially if a taxpayer is seeking a refund.
With the IRS announcement, states are expected to follow suit, and to announce their own extended payments dates. These expected announcements may be state-specific, and may have different extension dates and other requirements, and should be consulted by a taxpayer. For example, the South Carolina Department of Revenue announced Tuesday, through SC Information Letter #20-3, that all South Carolina tax filing and payment deadlines starting on April 1, 2020 have been extended to June 1, 2020. Penalties and interest are waived by SCDOR during this period. This includes not only state income taxes, but also sales taxes, admission taxes, and other taxes administered by SCDOR.
Individuals and businesses are encouraged to carefully monitor IRS and applicable state announcements for more information in the coming days and weeks.

March 17th
The U.S. Small Business Administration is offering designated states and territories low-interest federal disaster loans, through the Economic Injury Disaster Loan program, for working capital to small businesses suffering substantial economic injury as a result of the COVID-19. This program is designed to help the business community address financing and cashflow issues, which may exceed the underwriting requirements for local financial institutions.
Today, Governor McMaster submitted the required request for assistance to the Small Business Administration (SBA) to make loans available in the form of SBA Economic Injury Disaster Loans for eligible small businesses located in all 46 counties of the state.
After approval of our state-certification by the SBA, the South Carolina Department of Commerce and South Carolina Emergency Management Division websites will have explicit instructions on how to fill out the SBA loan application. Please note this is a loan—not a grant—and will still carry underwriting requirements.
If you hear or learn of a small business in your district that has suffered economic injury as a result of COVID-19 and may be interested in obtaining an SBA loan, please direct them to Chuck Bundy at the South Carolina Department of Commerce. He can be reached at [email protected] or 803-737-0440.
We appreciate your continued support for small businesses in South Carolina. As always, should you have any questions or concerns or need any additional information, please do not hesitate to let me know.
Representative Mark N. Willis
SC House 16
Local restaurants
Several of our restaurants are offering to-go orders, delivery, or curbside pickup! Below are their hours, phone numbers, and what they offer at this time.
Remember, the Governor has stated that dining rooms of all restaurants be closed until further notice.

We are updating this list as we receive information. Check back often!
Tony's Pizza & Subs
Curb side, Pick Up & Delivery
864-862-8669
Sweets by Julie
Offering: Requests for gluten free baked goods, free local delivery if needed
585.233.7332
Www.sweetsbyjuliegreenville.com
Www.fb.me/sweetsbyjuliegreenville
Tacos Bla Bla Bla
Offering: curbside, delivery and to-go orders - Open at 11am (all locations)
864-408-9228 or order online www.tacos-blablabla.com
El Patron
Offering: pickup orders and Door Dash
Family meal deals starting at $28.95
864-862-3444
Orion's Bar & Grill
Offering: pickup and delivery
864-864-5388
Garcia's
Offering: curbside, delivery (with restrictions) and to-go orders
864-601-9665 or 864-200-9467
Cucina 100
Offering: to-go orders and Door Dash - Hours 4-9:30pm
864-601-9606
Growler Haus
Offering: To-go, curbside, and Door Dash
Take out beer in growlers and howlers
864-409-2337
Bobby's BBQ
Offering: online orders for delivery & pickup, to-go orders
864-409-2379 or www.eatbobbys.com
Sweet Catherine's
Curbside Service
864-862-0777
Bucky's BBQ
Offering: Takeout only
864-409-3333
Carolina Growers Group
Offering: meat only, no lunch at this time
864-409-2323
Frank's House of Pizza
Offering: carry out & delivery
Buy one pizza, get one half off.
864-409-2335
Waffle House
Offering: carry out
864-862-7216
Sugar & Spike Bake Shop
Facebook page
Pete's Diner
Offering: carry out
Large 2 topping pizza, 10 wings, 2 liter - $21.99
864-862-7108
Zaxby's
Normal hours at this time
Offering: drive thru
864-862-4400
Georgia Street Cafe
Normal hours at this time
Offering: carry out
864-862-7767
Subway
Normal hours at this time
Offering: carry out
864-862-7371
---
Clock Drive-In
CLOSED UNTIL FURTHER NOTICE
Steam Coffee & Cream
CLOSED UNTIL FURTHER NOTICE
JPeter's
CLOSED UNTIL FURTHER NOTICE
retail
Local retail businesses that are remaining open at this time, what they are offering, how you can support them, and their hours.
Unique Creations of the Upstate
Hours: 10-6 Thurs-Sat
Offering: Online classes, curbside pick up for hand sanitizer, CBD & room spritz, $10 Easter Baskets
864-409-2627
The Sock Ministry
Closed to the public, call for appointments
Followers of their FB and Instagram pages can receive FREE shipping
864-408-9990
SC Wholesale Mattress
Closed to the public, online sales with free curbside delivery
Check out their Facebook or call for specials
864-862-4608
Burdette's Hardware
124 N Main St, Fountain Inn
Hours: 7:30-6 Monday-Friday; 8-1 Saturday
864-862-1411
Offering: shopping in-store, curbside or over the phone, delivery if needed
Avon Outlet
Hours: 10-6 Mon-Sat
864-275-5854
Offering: curbside pick up and local delivery
Buy one, get one half off everything in the store!
Inn Season
By appointment only
864-409-2424
Kimbrell's
Hours: 10-6 Monday-Saturday
864-862-1082
Patsy's Attraction on Main
Hours: 8-6 Mon-Fri; 10-4 Sat; 11-4 Sun
864-862-6863
Lilies on Main
Normal hours at this time
Curbside pickup and delivery, call or order online
864-409-1064
Uptown Barber Shop
Hours: 10-6 Tues-Sat
864252-0832
CVS
Hours: 8-9
864-862-4414
I Declare
Closed until April 1; will continue to take orders through Facebook
Southern Sisters
CLOSED UNTIL FURTHER NOTICE
Black Tulip
CLOSED UNTIL FURTHER NOTICE
Trade Company
CLOSED UNTIL FURTHER NOTICE
other
Bi-Lo
Hours: 8-8
864-862-5585
Let's Dance
Offering interactive classes!
www.letsdancesc.com
Matthews Wealth Management
Open by appointment
864-527-5982
Fountain Inn Dental
Hours are fluctuating, call for more information
864-601-9899
M&M Scrap Metal
Normal hours
864-876-1031
Spike's After School
Now opening at 6:30 each day
864-862-5050
Stacy Jacobs, Realtor
Open for business (Skype, FaceTime, video tours of homes, etc.)
864-395-1643
Main Street Insurance
Working from home
864-601-9670
Ryan Waggoner: Allstate Insurance
Open, but closed to walk-in traffic
864-714-7111
Smith Chevrolet - Laurens
Open normal hours
864-984-6581
GrandSouth Bank
Offering: Drive-thru; Lobby is by appointment only
864-862-8833
Cooley CPA
Hours: 9-5 Mon-Fri
864-862-4959
Venus Poe Attorney at Law
Open normal hours, call for more information
864-963-0310
Fountain Inn Animal Clinic
Hours: 8-5:30 Mon-Fri; 8-12 Sat
864-862-4707
Oak Insurance Services
Closed to the public, but still in the office working
864-518-1510
Calcutt Family Dentistry
Will assess schedule one week at a time
864-862-2966
Zen Bodywork
CLOSED UNTIL FURTHER NOTICE
Carolina Indoor Sports
CLOSED UNTIL FURTHER NOTICE
No Limits Martial Arts
CLOSED UNTIL FURTHER NOTICE